Aloha Warrior Parents and Junior Ninjas – we now offer Jujitsu every Thursday from 4:30 to 5:30pm.
We are incredibly stoked to offer a free introductory class to check out the new martial arts program here at the Wailea Healing Center!
Regularly a $30 value!
Prior to attendance, please fill out and sign the Liability Waiver, and bring to class — Click Here
To ensure the health of our young warriors, please follow these guidelines:
COVID-19: Please observe local safety ordinances regarding masks when entering and exiting the Wailea Wellness Center. If you or your junior(s) feel symptomatic in any way please refrain from attendance.
Hygiene: Please make sure fingernails and toenails are trimmed. Hands, feet, faces, and clothing are clean. Wearing socks or Japanese Tabis is encouraged for further cleanliness.
Attire: Martial Arts Uniform (Gi) is recommended, otherwise a T-shirt with sleeves that cover the shoulders is required (no tank-tops) — Long shorts, light pants, sweat pants, or yoga pants that cover the knees is recommended — Any jewelry such as watches, bracelets, necklaces, or piercings must be removed prior to stepping on the mat, and pockets must be emptied.
Hydration & Energy: Please supply personal water bottle for use during class. For efficient benefit of the instruction time, it is ideal to eat about 1 hour before class, and if possible see that bathroom breaks are minimized.
Thank you for your diligence and consideration for the safety of the Young Warrior Community!
Sincerely,
Sensei, Alex Legato • Menkyo Kaiden Shihan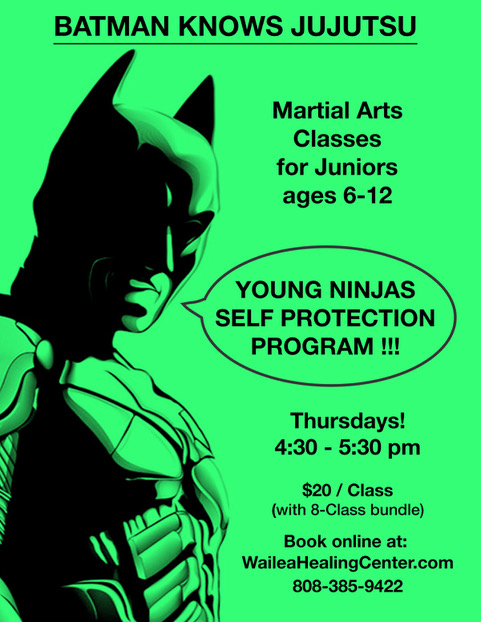 Certified and Licensed Chief Instructor
Wailea Healing Center • Kihei, HI
haikubudo@gmail.com | 808-385-9422
https://waileahealingcenter.com/wp-content/uploads/Batman-Web-421.jpeg
622
481
Rebecca Wilson
https://waileahealingcenter.com/wp-content/uploads/logo500-300x300.jpg
Rebecca Wilson
2020-11-17 14:03:49
2021-04-16 05:24:54
Kids Martial Arts Program